As promised, Thanks to my wonderful sponsors, we are feeling especially giving this month. Christmas In July has Begun! So many fun and exciting things to check out and plenty of opportunities to WIN in the weeks to come.

Grab the Button, and tell everyone you know!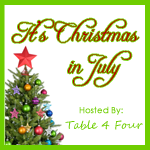 What comes to your mind when you think of the Holiday's? Family,Friends,and Food right? I'm no Betty Crocker, but even if you are...you definatley need to check out
Company's Comin'
and
Easy as Pie
! Casseroles, Dips, Pie mixes, and MORE! All neatly packaged in containers cute enough to give them as a gift!
Check out the amazing assortment I received from
Company's Comin'
! (Basket was not included)
Follow the directions directley on the package by adding a few main ingredients to the selected package (and bake if required) Thats all you have to do. Your final product is an amazing dish delicious enough to claim as homemade!
If you like garlic, then the
Garlic Cheeseball
is the appitizer for you. Its made with, garlic, some more garlic, a bit of cream cheese, and a touch of garlic to finish it off. Yum! I have to say my favorite was their take on
King Ranch Caserole
. Absolutley amazing! Rich, creamy goodness! And the
Chocolate Puddle Pie
, ooey gooey chocolatey goodness! I couldn't help but brag to my taste testers that all I had to do was add a stick of butter and a few eggs to a pie crust and pop it in the oven. You can NOT get this pie from a box at the grocery store, that is for sure!
My new friends at
Company's Comin'
and
Easy As Pie
were generous enough to supply me with a sample gift basket, but the cherry on top is they want to give you one too! A $40 value gift assortment is your's to win...
As always, extra entries are as followed:
Follow this amazing blog, you sure don't want to miss out! (1 entry)
Grab my Table 4 Four Button and display it on your blog (1 entry)
Why not get the Christmas in July Button, and display it too (1 entry)
You should definatley blog about this giveaway! (1 entry)
Shout out about this giveaway on your Facebook. (1 entry)
(Make sure you leave me a comment for each entry!)
You don't want to miss out on this one, so make sure enter! Contest closes on July 29th at midnight!